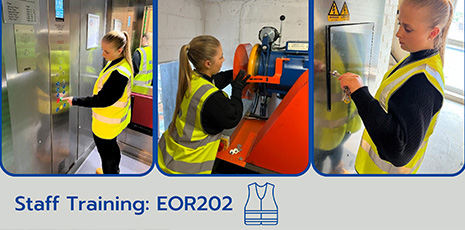 Staff Training: EOR202
EOR202 is a lift industry qualification which encompasses basic lift safety. It enables participants to understand fully their statutory duty to work safely and indentify and resolve unsafe working conditions.
Those who pass this integral qualification are able to successfully monitor unsafe situations and adhere to measures which allow them to safely operate lifts. This qualification is crucial to the lift industry as it places safety at the forefront, ensuring wellbeing and efficiency whilst encouraging full focus and reflection on situations. This qualification is essential to the lift industry as it provides the necessary foundational knowledge required for any lift-related career.
In this case, the EOR202 qualification will assist Grace in carrying out her day-to-day job role of providing quoations for mandatory insurance works required for lifting equipment.
We spoke to Grace about her experience undertaking the qualification…
What is your job role within Apex Lifts?
I'm Apex's Insurance Sales Coordinator.
How will you benefit from this qualification?
This will help me improve my knowledge and understanding around lift parts and the way it all works. The qualification will become helpful when creating quotes and knowing what sundries to use for the specific elements.
What does completing the EOR202 mean to you?
I am proud of myself for completing this qualification and feel a sense of achievement knowing how hard I work in my job. This qualification only aids that further for me.
What is your past experience in the lift industry?
I started my career on the Service Call Desk for Apex (for 2.5 years) before I transitioned into the Sales department in December 2021. I built the confidence over the phone with customers and engineers in my time on the Call Desk and in my sales job currently. I feel like I now work more behind the scenes in Apex and I love it – providing quoations for insurance works required.
How will completing the EOR202 impact your current role?
It will provide me with a better understanding of the lifts and components, so I can create quoatations as accurately as possible.
How has Apex Lifts assisted in your training?
Apex put the opportunity forward for me to undertake this course which made me feel priviliged anyway… Apex are also able to provide the training in-house which becomes extremely helpful when I have any questions and also booking time to be on-site (to take the pictures and obtain information for my write-ups).
What do you hope to achieve following this qualification?
I hope to have a better understanding and further knowledge on sundries needed for certain lift parts. This would help me when quoting for replacement parts and being able to picture and imagine how the engineer would safely complete this.
What are you looking forward to now you have the qualification?
I'm looking forward to being able to go out on site visits more often and then coming back and going over what I have learnt and the information I have obtained about lift components.
Do you plan to undertake any further training?
After completing this qualification, I'll be returning to the office full-time again, taking with me the new knowledge and skills I have learnt. I don't have any plans to further my training as I believe this has armed me with the skills required to excel in my current role and career – I always hope to achieve more in the job I am currenlty in!
Apex Lifts would like to congratulate Grace on the completion of her EOR202 of which she completed in record time!