Apart from the routine requirement for lift maintenance, having a well-maintained lift in a building enhances the experience of building visitors and passengers each and every time they interact with the lift.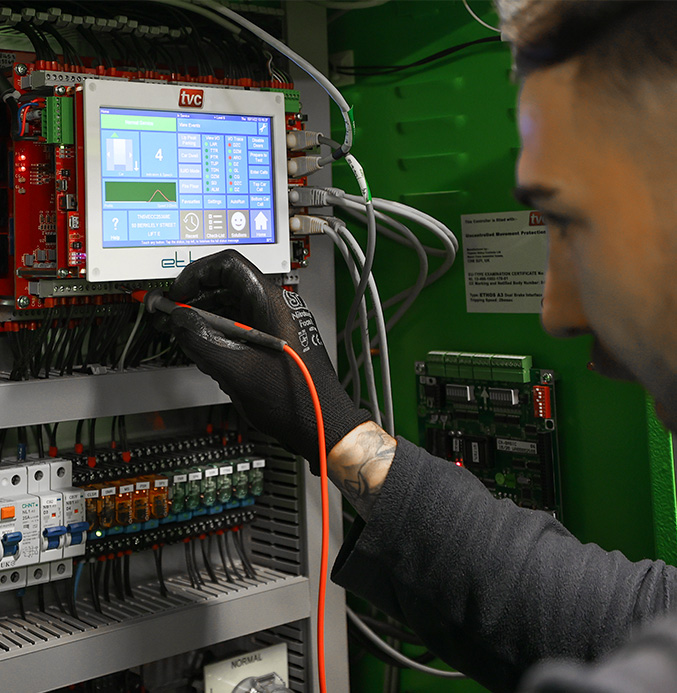 Lift Maintenance
As a business that has built its reputation on quality and reliability, we take pride in the performance of the lifts we maintain. Whilst performance-based maintenance orientates around remote lift activity monitoring, we believe firmly that an experienced engineer checking and inspecting the lift as part of a planned maintenance programme provides the best possible preventative maintenance option.
To support our customers, Apex Lifts also undertake reactive repairs and emergency call-outs with tailored services developed for each client and building.
Our highly-trained directly employed lift service engineers all have dedicated rounds and become well known to our customers. Our collective pride in our work and the performance of our customers' lifts ensures we always deliver an outstanding maintenance and breakdown service.
Across the business, our objective is to work in partnership with our customers to deliver a comprehensive service that ensures lifts are safe, reliable and functional with minimum downtime and disruption for service use.
Basic & Comprehensive Lift Maintenance Contracts by Apex
Our basic monthly service visit option through to fully comprehensive maintenance provides customers with a range of contract options to suit almost all budgets.
We employ highly skilled engineers with experience in diagnosing faults, lift repairs and maintaining equipment across a wide range and age of manufactured lifts and escalators.
Contact Us to find out more about the lift maintenance contracts that are available to you.
Emergency Lift Service Call Outs – 24/7
As a London and Home Counties-centric lift maintenance company, we are focused on delivering a second-to-none service by employing and positioning our engineers locally to their service rounds and their home locations. This enables us to provide customers with a 24/7 emergency response call out with a target arrival subject to traffic.
Apex Lifts maintains all types of lifts from single goods lifts to large group installations and escalators and covers all kinds of manufactured lift types. See an example of our work.
Want to know more about how we can help you with a lift maintenance project? Get in contact with us today at info@apexlifts.com or call us on 020 8300 2929.
Apex will keep your lift compliant
Our team is 100% committed to informing all of our customers of lift legislation updates as soon as they occur. This is to ensure that they all have full awareness and understanding of their duties as a lift owner.
LiftWatch
LiftWatch is an interactive, online tool that provides our customers with a bespoke, value-added service that delivers in-depth and detailed portfolio information, including:
Real-time updates
Electronic exchange of orders
Proactive reporting
Data transfer/information sharing of lift and escalator service, maintenance and repairs