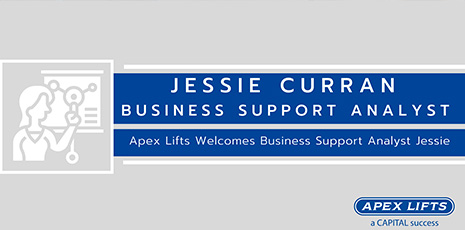 Meet the Team – Jessie Curran
What's your background/past experience?
In my previous line of work, I worked in the finance department. The skills I picked up from this previously role can be utilised through my role at Apex as a Business Support Analyst where I predominately use Excel to do reporting, with the main aim of finding new ways to adapt the reporting process in order to improve the end result and readability for our clients.
What made you choose to work for Apex Lifts?
I wanted to work for Apex, as they have really good social values like their stance on Social Responsibility and I was also impressed by the Royal Warrant they received. I also like the work Apex does with charities in the local area which is a great way to give back to the community and my hometown too. I also enjoy the friendly environment that I get to work in every day.
What does your day-to-day role involve?
My role which is mainly based on Excel and PowerPoint involves producing KPI reports, taking data from LiftWatch looking at monthly figures relating to the call and service dates. I also My role also involves supporting the customer helpdesk, taking phones calls relating to lift break downs, entrapments and, client enquiries
What's your favourite aspect of the job role?
Through producing the reports, I get to see an overview of contractual performance and gain an insight into the KPIs that are monitored, the different variety of client sectors that Apex Lifts works across and, I get to use Excel (which I really enjoy!)
What aspect do you find the most challenging about your job?
I find the most challenging aspect of my role is continuously adapting to specific reporting requirements. Also, learning the different components and terminology of a lift – it was a lot to learn at the start as someone completely new to the industry!
What's your favourite building in London? Why?
Buckingham Palace, as the building is incredible, and it is such an important monument in British history.
What are your interests outside of work?
I enjoy keeping fit and healthy by going to the gym and, spending quality time with friends and family over dinner at local restaurants.
If you had to describe yourself in three words, what would they be?
Confident, smiley, and helpful.
We're off to the pub, what are you ordering?
Pink gin with lemonade.
If you had to be stuck in the lift with someone, who would that be? Why?
I would want to be stuck in a lift with my best friend, as she is calm and funny, which would be a great combination to take my mind off the situation.