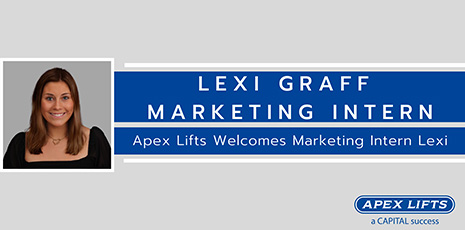 Meet the Team – Lexi Graff
Question One: What's your background/experience?
I am currently wrapping up my undergraduate studies in Marketing with a digital emphasis at the University of Georgia in the United States. After my team and I won my school's annual Digital Marketing Competition and from studying abroad in Paris this past summer, I realised I wanted experience in digital marketing in an international setting. I have had experience within the lift industry in the US from Interning with American Elevator in Georgia, US during the summers between my years of study at University. I have also been involved with a marketing and sales organisation at my University known as Pi Sigma Epsilon, along with American Marketing Organisation.
Question Two: What made you choose to work for Apex Lifts?
I had an internship requirement for my digital marketing internship, and I thought international work experience would complement my university experience well. With experience interning for American Elevator in the US, Apex Lifts felt like the perfect opportunity. As a soon-to-be graduate (December 2022) with a focus in Digital marketing, I find that Apex provides an excellent opportunity for me to apply what I have learned during my four years at university and gain valuable experience. Especially having the experience of working for Apex Lifts parent company, Cibes Lift UK – allowing me to gain experience and knowledge across three different lift-based businesses: Cibes Lift UK, Apex Lifts and Titan Elevators.
Question Three: What does your day-to-day role involve?
My day-to-day role consists of wearing different hats. I am generally collaborating with the marketing and sales team, working on social media creation, strategy, planning, email newsletters, and more. Conducting research, supporting the marketing manager, and keeping up with the constantly changing marketing trends is a critical part of the job. Whether I am producing KPI reports, attending exhibitions, or completing an SEO audit, I continue to gain a greater understanding of the role marketing plays.
Question Four: What's your favourite aspect of the job role?
My answer here is twofold. Firstly, I enjoy working with my team, who have created such a supportive environment. Marketing across three different companies also allows me to meet many new people and expand my network more than I expected. Secondly, seeing how lifts can positively impact clients gives my role purpose. Whether providing accessibility to someone who needs it or elevating interior design and innovation, I feel motivated to create quality content and ensure the right audience sees it.
Question Five: What aspect do you find the most challenging about your job?
Referring to elevators as lifts! I'm partly joking, of course, but adjusting the content I create and publish to a different audience has been a fun challenge.
Question Six: What's your favourite building in London? Why?
Vertus (Newfoundland) in Canary Wharf because It is my lighthouse and helps me find my way home.
Question Seven: What are your interests outside of work?
Outside of work, one of my top interests is travelling! While studying abroad this summer in Paris, I travelled to Crete, Greece, with some classmates and Nice, France and Barcelona, Spain, with my family after my program ended. Since arriving in the UK, I have travelled around Switzerland. Interlaken was my favourite! I visited Valencia, Spain, and Budapest, Hungary! I am travelling to Brussels, Gent, Bruges, Amsterdam, and Cologne, Germany, to experience the holiday lights and Christmas markets!
Question Eight: If you had to describe yourself in three words, what would they be?
Dynamic, Detail-oriented, Inquisitive.
Question Nine: We're off to the pub, what are you ordering?
Peroni or anything with lemon! I am Learning to love gin, too, because that is the liquor of choice here. I am looking forward to trying a Sunday roast soon, though. My favourite cocktail garnishes are fresh Rosemary and Cranberries during the holiday season! (Sometimes tajin – especially in America), I love fresh herbs.
Question Ten: If you had to be stuck in a lift with someone, who would that be? Why?
Frank Sinatra. His music is a great distraction. Naturally, I would request a personal concert from him. His music also makes me feel calm, at ease and closer to my family – my grandpa in particular who also loved Frank Sinatra.