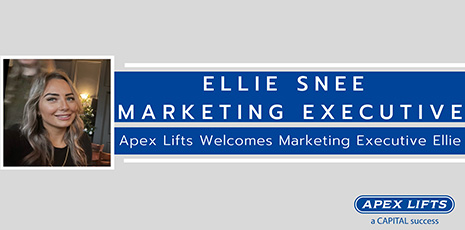 Meet the Team – Ellie Snee
Question One: What's your background/experience?
My previous experience lies mostly in academia. After completing my undergraduate degree in Events Management, I decided I wanted to pursue a career in Marketing and Advertising. Leading me to a masters programme in Strategic Marketing and Advertising Communications at the University of Greenwich. Fortunately, during my studies, I was able to maintain an emulating role at a local health club within their sales and marketing department. The role allowed me to put my theoretical knowledge into practice on a day-to-day basis and fundamentally supported the development of my skills.
Question Two: What made you choose to work for Apex Lifts?
I was initially attracted to the role at Apex Lifts due to its varying dynamics. No two days are ever the same! This was of great importance to me at the time as I wanted to something to motivate me both mentally and physically. The role itself allows me to explore various areas of the marketing mix, testing my knowledge and abilities daily. I also welcome being able to learn first-hand from colleagues in and around the office.
Question Three: What does your day-to-day role involve?
My day-to-day role really varies daily. Some days I could be creating social media content for one of the companies' channels and other days I could be completing SEO audits on the website. The role is so dynamic, constantly keeping me on my toes!
Question Four: What's your favourite aspect of the job role?
My favourite aspect to the role is by far meeting new people. I enjoy the opportunity to creatively collaborate with others within the business and have so far met people that I would typically not in my normal day to day life. I also love the new knowledge and skills the role is providing to me and appreciate the opportunity to do so.
Question Five: What aspect do you find the most challenging about your job?
I find it most challenging to recall all the different components and functionalities of a lift. However, I am aware that this is something that will come in time and welcome the challenge of learning something new.
Question Six: What's your favourite building in London? Why?
My favourite building is the Old Royal Naval College. It has sentimental memories for me through my studies and architecturally it inherits much of the local history of Greenwich making it even more special.
Question Seven: What are your interests outside of work?
In my free time, I really love travelling with friends and family. I am lucky enough to have family in various parts of Europe and often spend summer breaks with them. It is in my nature to explore and having the opportunity to travel to new places really allows me to do so. When I am at home I enjoy spending quality time with my dog, taking her on adventures in the countryside's of Kent.
Question Eight: If you had to describe yourself in three words, what would they be?
Positive, Considerate and Open-minded.
Question Nine: We're off to the pub, what are you ordering?
A spiced rum and coke!
Question Ten: If you had to be stuck in the lift with someone, who would that be? Why?
I would love to be stuck in a lift with DJ Hannah Wants. Her music would certainly keep my spirits up and her stories would help pass the time whilst we wait to be rescued!