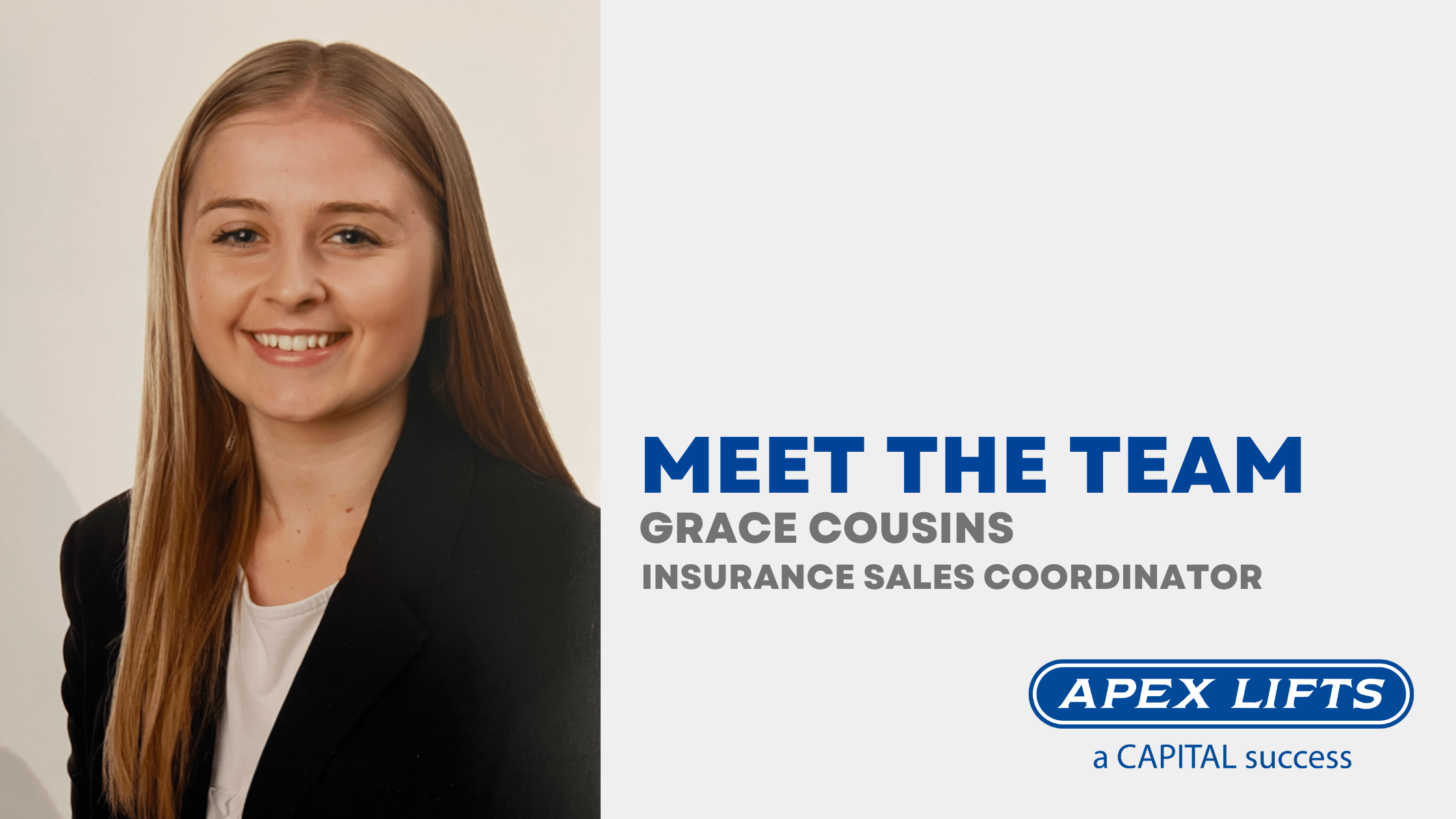 Meet the Team – Grace Cousins
We got up-close and personal with Apex's Insurance Sales Coordinator, Grace Cousins…
What's your background/past experience?
I worked in retail for 2.5 years before I started at Apex, so prior to me starting here, I already had face-to-face customer experience. When I first joined Apex as Service Coordinator, I put my previous customer experience into practice via liaising with customers over the phone. Apex Lifts was/is the second job I've ever had and I feel quite lucky to have always enjoyed my time here and the roles I have been in.
What made you choose to work for Apex Lifts?
I wanted to expand my knowledge and experience with something different to the retail environment I was used to. Before I joined Apex, I never really gave thought to who maintained and installed lifts and I was completely oblivious as to what would happen if I ever got stuck in one! Working for Apex is really interesting and so different to my previous role – I also knew that I loved the idea of office working, from my time studying IT at Sixth Form.
What does your day-to-day role involve?
I used to work in the role of Service Coordinator on Apex's Helpdesk, dealing with lift breakdowns, trap-ins, managing the technician diary and nightcall service. I have been able to develop my career at Apex Lifts and now work in the Sales department as Insurance Sales Coordinator. I quote for all insurance items raised and liaise with our clients in regard to the works being carried out/required on their lifts. It's a brilliant role and it is so interesting to experience an additional aspect to how Apex Lifts operates as a company.
What's your favourite aspect of the job role?
I still really enjoy speaking to our clients and providing them with quotations to ensure their lifts run smoothly and most importantly, safely! I love how important the role is and the responsibility that comes with it.
What aspect do you find the most challenging about your job?
In my opinion, the most challenging aspect of my job is learning and remembering all the different aspects and components that make-up a lift!
What's your favourite building in London? Why?
My favourite building has to be The Shard. I've been a few times to experience the view and to also enjoy dinner there. It's lovely and good value for money – with the benefit of the London skyline view!
What are your interests outside of work?
I enjoy exercising and keeping healthy. I love trying new foods and enjoy going out for dinner as a result. I also enjoy adventure and regularly go on countryside walks most weekends.
If you had to describe yourself in three words, what would they be?
Energetic, positive and smiley.
We're off to the pub, what are you ordering?
Passion Fruit Martini!
If you had to be stuck in the lift with someone, who would that be? Why?
It would probably have to be David Attenborough – I think his voice would keep me calm!