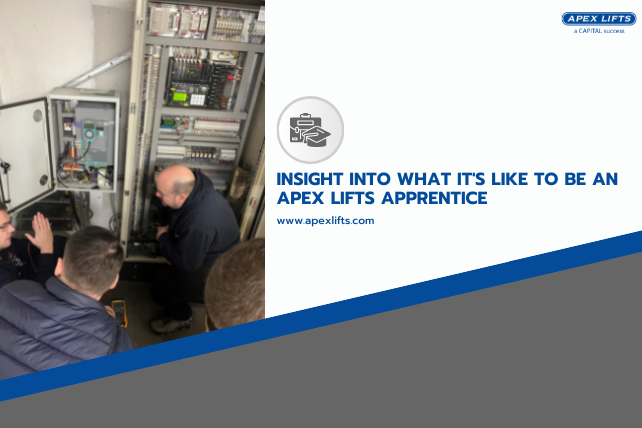 Insight into what it's like to be an Apex Lifts apprentice
Question 1: What made you chose to pursue a lift engineering apprenticeship?
The ability to learn a viable trade in a flourishing company.
I would like to be a lift engineer in the future and this apprenticeship is a great way for me to get paid while learning.
I got recommended for an interview whilst I was already doing an electrical engineering course and I thought it was the closest thing to it.
After having insightful and fun conversations with my brother, I was convinced I wanted to have the same career path as my brother who is also a Lift engineer.
After working in the workshop and speaking to the engineers, I knew that I would enjoy this type of work.
I was interested in the mechanical and electrical side, behind how a lift works and was looking for an apprenticeship and the opportunity came up.
I previously wanted to be an electrician and after doing some research I found that a lift engineer had a similar career path, I also wanted to speak to other lift engineers I know to hear about how they have found their careers.
Question 2: Why Apex Lifts?
They're a successful company at the forefront of lift engineering.
From speaking to people within the lift industry I heard that Apex Lifts have a really good apprenticeship scheme. I then did some research online and this verified what I had heard through word of mouth.
After considering different career paths, I came across the lift engineering apprenticeship online offered by Apex and I felt that this would be a great career path for me given the practicality and development opportunities.
After looking at a few different companies and the apprenticeship schemes they offer, I liked the idea of Apex's scheme which stood out to me the most.
They had a great apprenticeship programme and opportunities.
It sounded like the right place for me, and the apprenticeship format looked good.
After hearing positive reviews about Apex lifts, for example it's the best lift company to train from, I knew training with Apex Lifts would provide me with a good career.
Question 3: Describe a typical day as an Apex Apprentice?
We arrive at the site and plan our day out, then we begin working safely ensuring that we achieve all that we set out. We assist the qualified engineer we are placed with, with a variety of tasks involved in the installation of lifting equipment – ensuring we take photo evidence to support our NVQ qualification/work.
Wake up, make the teas, learn more about lift components and get my books complete.
Arrive at the site at 8am, put any lifts back in service if any were out overnight, do some fault finding, go for lunch at 12 noon and following lunch, carry out any necessary tasks that need to be completed before the end of the day.
Hard work but also fun with the engineers they are very helpful with my books and learning about lifts.
Get to work and set up, get the books ready for the jobs, find new lift equipment and assist the qualified engineer I am paired with.
Get in and make a tea for myself and my fitter, then check the program to see what we are doing that day. At 8:00 we get our work tools ready to start work, at around 11:30 we stop for lunch for an hour and then go back to work before packing up and going home at 17:00.
Finding and learning about faults and learning different lift parts and what they do.
Question 4: What do you do in the Apex Training Academy?
The Apex Training Academy has been great for my career development; through this academy I have been able to review my progress set goals and discuss my next steps.
Talk through my write ups and how to improve.
Review our progress in our books.
Reviews and feedback on our books, get set new tasks and talk about past tasks.
Discuss written work and work life.
Talk through our write ups and how we can improve going forward.
Reviews and go through lift components and safety videos.
Question 5: What have you achieved as a result of partaking in the Apex Apprenticeship scheme & training Academy?
I've developed an understanding of the lift trade, developed a good relationship with the fitters and progressed through with the NVQ.
Learnt about lifts, alongside obtaining important life skills within a working environment such as time keeping, organisation skills and communicating with different people within the industry.
I have achieved a better knowledge of lifts and their components.
Knowledge of the lift industry.
Learnt a lot about lifts and work life.
Learnt about lifts and how to install, service and repair them.
Knowledge of lift components and health and safety.
Question 6: What are your future goals and aspirations within the lift industry?
To achieve my NVQ and continue further into the trade.
To become a Tester by completing my NVQ3 and moving onto my NVQ4.
To become a Manager.
To become an Engineer and know lifts inside and out.
To become a Senior Fitter.
To become a Tester.
To become a Tech.
Question 7: What has been your biggest achievement taken from the Apex apprenticeship scheme & training academy to date?
The full rip-out and installation of the lifts with my fitter
Being able to wire a lift panel.
To be able to fix a lift and know its components.
Know how to fit a lift entrance and doors and getting the right measurements.
Fitting lifts with my fitter across a variety of sites in and around London.
Being able to install a lift from start to finish with my fitter.
Learning how to fit different lift components.
Question 8: What would you say is your favourite part about being an Apex Apprentice?
The opportunity to progress through the trade.
Developing my knowledge on lifts and learning beneficial life skills.
Working alongside good people.
Having a laugh at the site and learning new things every day.
Learning about new parts in the industry.
Working with people around my age, while learning as it makes it easier and doing a job I enjoy.
Aside from learning about lifts and components. My favourite part is the banter with the engineers making my day enjoyable.