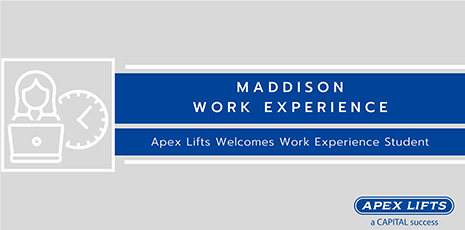 Apex Lifts Welcomes Work Experience Student Maddison
Apex Lift's are proud to welcome work experience student Maddison, who has been spending her time within Apex Lifts manufacturing facility in Sidcup. Maddison has a background in engineering and mathematics and aspires to work within the engineering industries when she is older. Maddison has successfully undertaken various challenges within the workshop, finding her new passion… TIG welding. Maddison has received exemplary feedback and discusses her time with us below. Well done, Maddison!
How old are you?
I am 16 years old.
Have you always been interested in engineering?
Yes, for quite a while now. Mostly since secondary school. I love the aspect of it being so hands on and really enjoy the collaboration that it brings. I find mechanics really interesting and want to pursue a future career in some form of engineering.
What are you studying?
At the moment I am studying A-Level maths and double engineering. I find the two subjects go hand in hand as a lot of engineering requires a good mathematical background.
What are you enjoying the most about your work experience?
I love Tig (Tungsten Inert Gas) welding. It's so fun, you get to sit down and do it, it's really quiet, almost silent, and it's not messy either! I find it therapeutic. I am also enjoying learning about the capabilities of all the machinery, it is fascinating what they can do.
What are you least enjoying about your work experience?
The cold weather this time of year from needing to ventilate the manufacturing space, it takes getting used to and I'm not quite sure I have yet! I also sometimes struggle with the journey in the morning as I live quite far away – other than this, there are no aspects of the work itself that I don't enjoy.
Is it what you expected?
No, I thought I would be standing around not doing too much to be honest. I am surprised with how much I have been able to do and how much I have learned. Even like today, I have been helping make one of the lifts downstairs. I love welding the control panels and pretty much all other aspects of this experience.
Where do you want to end up?
I am not too sure at the moment. I am considering going to university to do an engineering-related degree. Otherwise, I think I will find an apprenticeship to further my knowledge but in a hands-on form as I am interested in the mechanical side of things rather than the written.
What would your advice be to someone thinking about lift engineering for their work experience?
Do it! It's so fun, you get to learn so much. It's a great environment to be in and you get to meet loads of new people. I have found this experience invaluable and will take so many lessons away with me. From learning about new equipment to seeing the machinery in action, this experience has shown me what it takes to work in the engineering industry.
If you were stuck in a lift, who would it be with?
It would definitely have to be Beyonce; she would keep me entertained for hours!