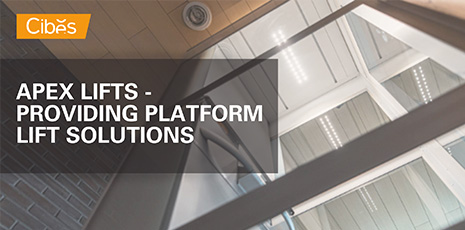 Apex Lifts – Providing Platform Lift Solutions
Thinking of installing a platform lift? From specification to cost, installation, and delivery here are some things you should know! It can often be a confusing time when choosing the right lift solution for you, as such this blog will outline some key pointers that may support you in your buying decision.
Adding a home lift to your property is a great way to increase its market value and obviously your accessibility. Did you know that a platform lift often costs less than renovating your kitchen making it a great long-term investment for future-proofing your home or business? Starting at as little as £16,000 – £17,000 a Cibes Lift could be the perfect solution to your accessibility needs. Furthermore, Cibes' platform lifts are available in a variety of makes, models, and finishes – ensuring the perfect lift solution is designed and manufactured to provide the utmost style, function, and safety to either a private home setting or, within a public space such as: schools, hotels, shopping centres and more…
Apex Lifts are proud a retailer of the full Cibes Lift range, providing you with high-quality Swedish engineering to either the comfort of your own home or within your commercial property. Beneficial to you the client, is the ease of installation that a Cibes Lift offers. With a minimal need for structural alteration, many of the range come with a two to three-week manufacturing turnaround, and a two-to-three-day installation time.
Quite simply an enclosed platform lift is a platform that moves vertically within an enclosure. Cibes Lifts offer a range of different style solutions to suit both your aesthetic, project specification and budget such as the Cibes Air, Cibes A5000, Cibes C1 Pure, and Cibes A4000. Each solution provides suitable disability access, for properties between 2 and 6 floors and can accommodate even the smallest of spaces starting at 1m2.
With a range of specifications and finishes, a Cibes Lift can be customised to suit your home's aesthetical requirements or, your project's specifications. Delivered in ready-made modules, your lift will arrive ready for installation, making the process seamless and quick. The modular Scandinavian design promotes a space-saving solution to your accessibility needs, with minimal top and pit height requirements, a Cibes Lift can be installed in both modern and period properties.
Designed with state-of-the-art technology, a Cibes Lift is manufactured with the utmost safety features. A sleek pressure push button that must be held during travel to the power backup system in case of a power cut, Cibes Lifts' are suitable for all end users. Cibes ensure they offer unrivalled customer care before, during and after the sales process.
Alongside Apex Lifts' established passenger lift business, the organisation now benefit from being a full-circle provider for accessibility and people movement solutions – ensuring Apex Lifts can seamlessly deliver product solutions to your vertical transport project.
For more information click here